Our dog Kona checking out a cliffside view of Castlegar on a foggy fall morning.
Your home base for exploring, relaxing and having fun in the West Kootenays.
Many of our guests, whether staying for holidays or business, have expressed how comfortable and welcome they feel at Windborne B&B. We've heard appreciation for the luxurious surroundings and casual atmosphere, and for our full breakfasts. That about sums up why we are in business! It's all about people and providing a friendly place to stay.
Windborne B&B is located in Robson, BC — 10 minutes from Castlegar. The property is fronted by the Columbia River and is only 7 km from Arrow Lake.
Windborne B&B offers
Two elegant guest suites with private decks and entrances
Ensuite bathrooms with massage-jet showers
Fridge, kettle, complimentary teas
Cable TV and Netflix
Large covered patio
Walkabout flower gardens
Accessible Columbia River beachfront
Your Hosts Marc and Mirja
Our pets Sammy the cat and our dogs, Kona and Chica, are here to welcome you, too.
Marc Conacher – Chief Cook and Bottle Washer
Marc is enthusiastic about getting to know you while he makes you a full and hearty breakfast. A few jokes might be included.
Also an experienced horticulturist and arborist by trade, Marc loves to make Windborne Bed and Breakfast's gardens look great for your visual pleasure. Marc's other hobbies include woodworking, snowshoeing, waterskiing and finding a new adventure to try (such as jungle gym treks). Marc is a Castlegar Chamber of Commerce board director.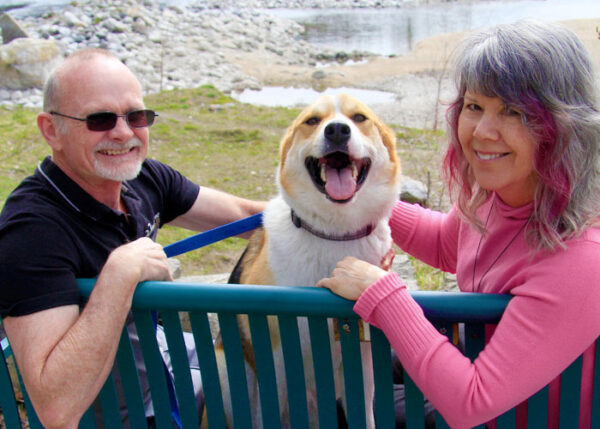 Mirja Vahala – Artist and Chief Food Taster (Yum!)
Mirja is enthusiastic about Marc's culinary efforts at any time.
She is passionate about painting landscapes and art mentoring. Her other time-absorbing activities include hiking, snowshoeing and waterskiing. Mirja is a Castlegar Sculpturewalk board member.
The Mirja Vahala Art Studio is housed on the ground floor of Windborne B&B. You are welcome to visit her studio during your stay.
To learn more about Mirja's landscape paintings and lessons, please visit, MirjaVahalaArtStudio.com.